Central Coast Boating – Hire – Services – Supplies
Central Coast Boating Hire Services Supplies
Central Coast Boating Hire Services Supplies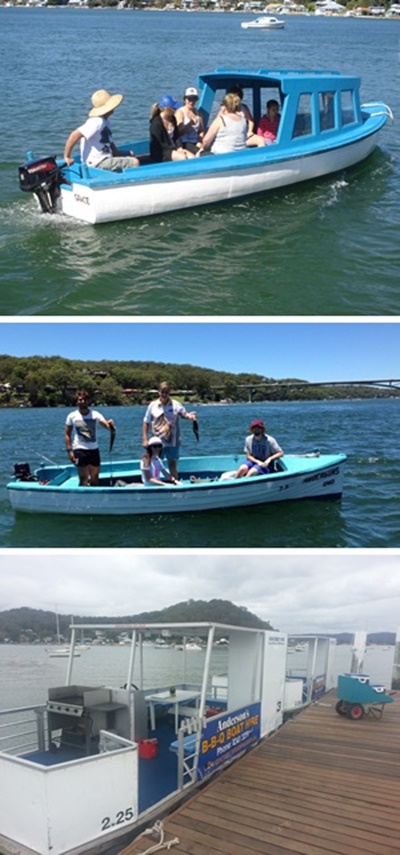 Andersons Boatshed Booker Bay Central Coast
—
DRIVE YOURSELF HIRE BOATS – OPEN 7 DAYS
8am -5pm
Half cabin and open boats
12 person BBQ boats
Aluminium boats with canopy
Boat licence not required
—
Boat hire includes – fuel, safety gear, map, full demonstration and fishing licence exemption.
Boatshed Shop – Bait, Hire rods, ice, fishing tackle, licences, coffee, drinks, ice cream and more.
Where can you go – Boats can be driven anywhere in the Brisbane Waters towards Woy Woy and Gosford, the limit out to sea is Half Tide Rocks at Ettalong. Boat hire is limited to daylight hours only.
—
3a Petit St Booker Bay
Email: [email protected]
—
Phone 4341 3219

Boat Bike Paddle Hire Central Coast
Located @ Killcare Marina, Hardys Bay, NSW, Central Coast 
—
Have a picnic or fish from our BBQ Pontoon boats or small boats, fuel is included, and no boat licence is required.
You can also paddle on our kayaks or SUPs around the bay or cycle around the scenic foreshore.
Find us in picturesque Hardy's Bay on the Central Coast with café and restaurants, Bouddi National park and Killcare beach nearby.
—
Our hire fleet consists of:
BBQ Pontoons for 12 people
BBQ Fishing Punt Hire for 8 people
Small Boat Hire "Tinnies"
Double kayaks (plus toddler)
Single Kayaks
Stand Up Paddle Boards
Mountain Bikes
We also hire:
—
We also sell fishing licences, bait, tackle, rod hire, cold drinks and holiday essentials such as hats and sunscreen which are available from our kiosk.
Book ahead to avoid disappointment. Eftpos facilities are available.
—
Opening Hours
Open 7 days School Holidays, Public Holidays, Wed to Sun other times unless bookings arranged.
See our website for opening hours.
Website: www.bbphcc.com.au
Facebook: www.facebook.com/bbphcc
Instagram: www.instagram.com/boatbikepaddlehire
Google Map: Boat Bike Paddle
Phone: 02 4360 2958
—


Terrigal Paddle Boats & Stand up Paddle Board Hire
Paddle Boat Hire
Terrigal Paddle Boats is one of the top things to do on the Central Coast.
It's great for families, couples and groups, and we have been making memories for people for over 30 years.
You can book or just turn up, and we have many boats so there is usually no long waits.
Hire rates are $25 for half an hour or $45 for an hour.
Paddle Board Hire
If you would prefer something more casual, we offer stand up paddle board hire, which includes a 5 minute how to paddle board lesson.
Rates are $15 for half an hour or $25 for an hour, and you can either book or just turn up.
Stand Up Paddle Board Lessons
Stand up paddle board lessons are at 2 separate times, 8 am and 10am, and they are on weekends, public holidays and school holidays, and we can also arrange mid week lessons.
These are groups lessons and a maximum of 8 people per group.
We teach the basics, to pivot turns, and your skill level will improve dramatically.
Our trained instructors can take you through a basic introduction, teach you the basics, and you will have a stack of fun along the way doing races, learning techniques and playing games.
A stand up paddle clinic is the perfect idea for groups or birthday parties for up to 30 people.
Lessons run for one hour and are $45 per person.
Bookings are recommended and you can book on (02) 4365 2355
Open: 8am till 5pm
Terrigal Lake, in front of the Clan Motel on Ocean View Drive, Terrigal
Ph: 02 4365 2355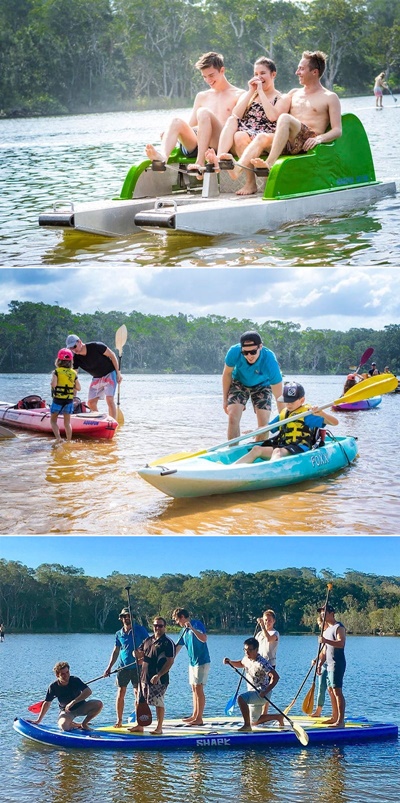 Aquafun Avoca Lake
As one of the Central Coast's most outstanding outdoor attractions, we invite you to join us for a fun and safe adventure on Avoca Lake, an enclosed coastal waterway with an island and many bays and inlets to explore.
Aquafun is ideally located on the foreshore reserve of Avoca Lake in Heazlett Park, 15 Ficus Ave, Avoca Beach on the NSW Central Coast.
Aquafun Avoca Lake is moments from the golden sands of Avoca beach and is less than 100m from the boutique seaside shopping village. Avoca Beach is a favourite destination for many visitors and is just 5 minutes south of iconic Terrigal beach on the Central Coast of NSW.
Aquafun Avoca Lake is home to Australia's largest selection of modern human-powered pedalboats, kayaks and stand-up paddle boards for hire. If you can't decide which one to hire, you can try them all with our 'extra fun' option.
NO BOOKINGS NECESSARY for casual hire as we have plenty of equipment.
Large groups of 15 or more – we recommend booking so we can space groups apart.
OPEN 10am to 5pm
– Weekends
– Daily in school holidays
– Public holidays except Christmas Day
Heazlett Park
15 Ficus Ave, Avoca Beach NSW 2251
Ph: 0413 808 394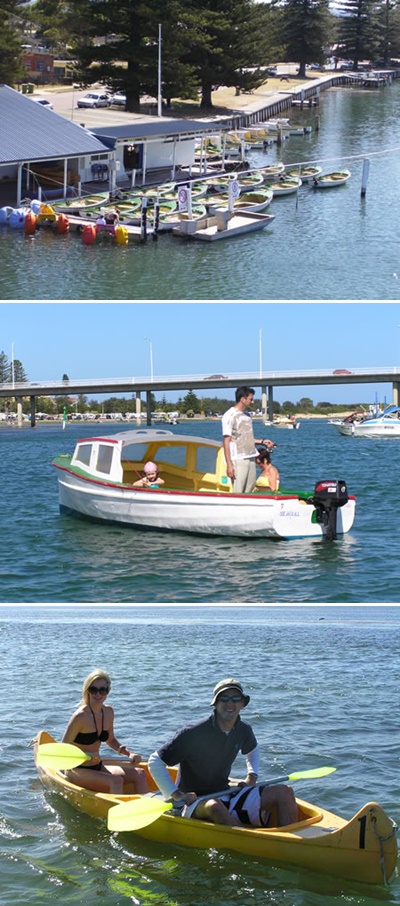 The Entrance Boathouse
Family Fun Afloat
The Entrance Boathouse is located under The Entrance Bridge on the NSW Central Coast at The Entrance.
The Entrance has been a major tourist attraction since 1885 and to this day, tens of thousands of people still come to enjoy this serene coastal resort.
The Boathouse was built in 1927 to cater for the thousands of people wanting to take advantage of the beautiful Tuggerah Lake and to fish, prawn or just have fun in the sun.
We have all manner of watercraft available to hire as well as everything you will need to go fishing. You do not require a boat licence to hire our boats and we have fishing licences available.
Watercraft for hire includes:
* half cabin motor boats
* open motor boats
* stand up paddle boards
* canoes
* double and single kayaks
The Boathouse has a comprehensive stock of everything you will need to fish or prawn with including bait.
Our kiosk has drinks and food and for visitors interested in memorabilia, we have great souvenirs.
Come and see us under The Entrance Bridge and let us supply you with all the things you need to make your visit to The Entrance a memorable one.
Our 7 days a week.
Address: Under the bridge, The Entrance Rd, The Entrance
Phone: 4332 2652